MySQL is the most popular database, according to a new tool that ranks various development tools according to their usage in the technology stacks used by various companies.
Three-year-old start-up StackShare Inc. launched its ranking tools this month, including the "StackShare Data Stores Index," which shows MySQL leading the back by virtue of its inclusion in some 5,480 stacks.
The company says it's building a LinkedIn for the Software-as-a-Service (SaaS) arena, with an initial focus on tools used for software development.
Ranking tools are also set up for Application Hosting, Languages & Frameworks and more. Furthermore, developers wishing to explore their own topics of interest can go to the categories page to find more areas under applications and data, utilities, DevOps and Business Tools, all with various sub-categories.
Each category ' provides a list of the top offerings ranked by the number of stack and a separate ranking based on the number of active job listings including a tool.
"Essentially these pages serve as a central place that lets users instantly view the top ranking tools in a particular category," a company spokesperson told ADTMag. "The tools are ranked based on user reviews/feedback/number of stacks, integrations and jobs. This is useful to CTOs and engineers when they are gauging what tools/services will work best for their teams/projects."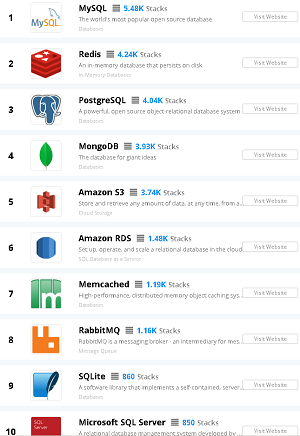 [Click on image for larger view.]Top Data Stores (source: StackShare)
Going to the company's Web ' brings up a list of Trending items, showing "What's hot across StackShare today" (which, today, is Vue.js, followed by Visual Studio and ES6).
"StackShare is the fastest growing community for SaaS tools -- we show you all the software a company is using and why," company literature says. "We're a developer-only community of engineers, CTOs, and VPEs from some of the world's top startups. Engineers use StackShare to compare and discover new technologies, while companies use StackShare to connect with engineers. We're building LinkedIn for the $150B SaaS industry, starting with dev tools."
Having begun as a side project called Leanstack, StackShare was founded in 2014. A 2013 introductory blog post from when the company was still called Leanstack explains the origin of the project:
Leanstack helps you keep up with the latest and greatest developer services. We show you: which services the most innovative companies in the world are using; let you learn about those services and how they can help you; and send you updates on new services you may be interested in. All in an effort to help make your stack "leaner" and thus, helping to make your company more successful.
Now, the company claims it has data on some 7,000 companies and has attracted more than 150,000 developers to use its services.
Here's a snapshot of the top entries in some selected ever-changing rankings as they appeared today:
| Category | Top tool |
| --- | --- |
| Application Hosting Tools and Services | nginx |
| Languages and Frameworks | Bootstrap |
| Assets and Media | Amazon CloudFront |
| Libraries | jQuery |
| DevOps | GitHub |
| Mobile Utilities | jQuery Mobile |
| Analytics Utilities | Google Analytics |
| Collaboration Business Tools | Google Apps |